We read too many reports on the high levels of stress and anxiety experienced by people working in the hospitality industry and there is now help and support available from a newly launched charity Hospitality Health. The charity set up by Gordon McIntyre, Association Dean for Hospitality & Tourism at City of Glasgow College explains in the following Q&A session why the charity was set up and what its hopes are for the future.
What does the charity aim to do?
Hospitality Health helps to address the issue of mental health and wellbeing within the hospitality sector and signpost employers and employees to the right organisations for their circumstances. The main areas of support the charity covers are mental health and wellbeing, gambling, drug and alcohol abuse.
What prompted you to set up the charity?
In the summer of 2017 a good friend and the chef who had been my daughter's first head chef, took his own life. This was just one of several people we were hearing about. Many people commented that there was nothing really out there to help and support staff through tough times. There were a number of anecdotal stories about what was really going on and a situation where managers are under real pressure from owners to get better returns on the business. It all highlighted what a stressful industry it has become. Many staff are taking drugs to get through a shift, or drinking to excess following a busy day. Wellbeing was being talked about , but not really in the hospitality industry. Following my conversations with a few people, the time seemed right to try to do something that could make a difference.
Why is mental health so important for this industry to address?
From a recent survey within the industry 59% of respondents reported having a mental health problem at the moment and 71% had experienced a mental health problem at some time.
Whilst the hospitality industry does not necessarily cause mental health issue, more than half of the respondents cited long working hours (56%) unreasonable working demands (54%) and a high pressure work environment (53%) as having an adverse impact, all of which are characteristics of hospitality, but which can be managed.
Are there specific areas of the industry that suffer more issues than others?
The area that is suffering the most is within the kitchen, chefs in particular appear to be affected more. We know that their environment is often hot, cramped, high pressure, under staffed, the list goes on. It is clearly not the most conducive place for wellbeing at work. Many cope well but sadly many turn to drink and/or drugs.
What happens beyond the first step of 'talking about it' that will give an individual confidence and reassurance that their honesty will take them down the right route for support and recovery?
There are more people coming forward and talking about mental health now than before, thanks to a few big names in the industry and the press covering their stories, stigma in talking about it is becoming reduced. Several employers now have Mental Health First Aiders in the workplace, who can identify changes in behaviours and offer support at an early stage.
If you could offer a 'light at the end of the tunnel' message to someone struggling right now, what would that be?
We have several 'Hospitality Heroes' feature on the website and I am sure that will grow., their message is a clear one; the journey may be long and tough, however it is not forever. Life is so much better without the drugs and alcohol dependency. It is often with the support of great family and close friends that they are able to get back on track. There are now many people who have come out the other end and are open to share their experiences, which is important for those who may be in a dark place.
Interview conducted by The Talker with Gordon McIntyre.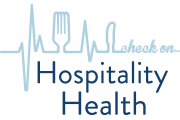 Find out more on Hospitality Health and the support available by clicking HERE
Supporting Your Staff
There is a range of information and signposting to support services detailed within the website which could be of assistance to your staff. The charity is urging employers to share the website details with their staff in order that they can access the information as and when they require support. The website address is www.hospitalityhealth.org.uk
Getting More Involved
The charity is currently looking for supporters for their events and fundraising activity. If you think you could volunteer and offer some assistance, they would love to hear from you.
Contact them HERE